There was a time in our society when the accumulated wisdom of the group was a treasured resource. It was taken for granted that if you had a problem with life, any sort of problem, you could ask the Wise Woman, or any of the circle of elders who could dispense advice and shed light on the many concerns of the day.
Today we have lost this sup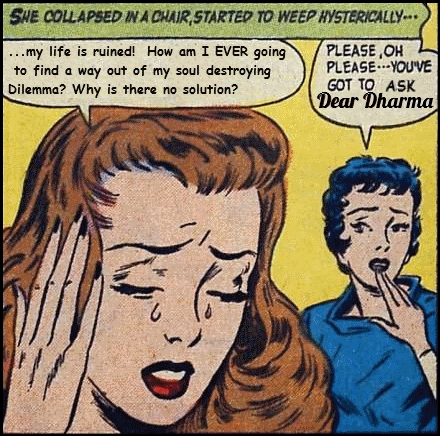 port and the Internet is the "support circle" for a large and growing part of the world. It is into this arena that Dharma has entered, to do battle with the spectres of Doubt and Confusion, and ward off unhappiness and humiliation. Dharma is your champion in a relentless quest to rescue relationships, wallop workplace emergencies, banish bad manners, and fight for family harmony... the sky is the limit!
Questions regarding family, friends and spouses, problems on the job, etiquette dilemmas, proper song order on party playlists - if you can think it, you can ask it!
Have to make nice with obnoxious relations but don't know how? Ask Dharma! Need tips on getting along with a bad boss or on how to manage a terrible underling? Ask Dharma! New puppy to name, relationship you want to take to the next level or one that you should have bailed on several levels ago, bad neighbours, bad hair, bad habits - (say it with me) "Ask Dharma"!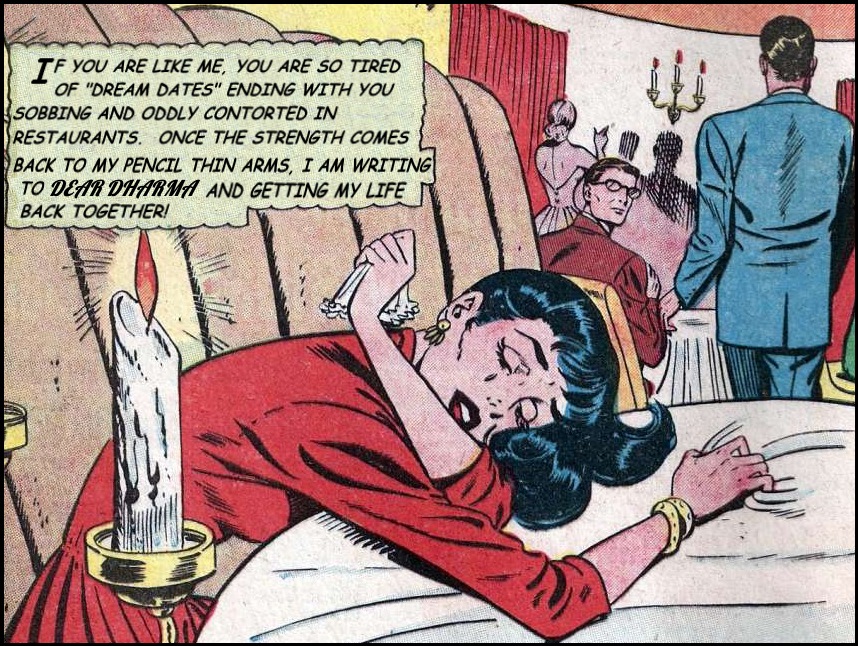 Dharma is not a doctor or a lawyer, and this is not meant to be in place of any professional counsel. Any advice given by Dharma, while meant to be helpful, is purely for entertainment purposes.
Dharma responds to every question that is submitted, so check back often to see when her answer to what's been plaguing you has been posted.
Better yet, sign up to have Dharma sent directly to your inbox.  All you need to do is select Be a Follower! on the toolbar above or the button below, enter your email address and and click FOLLOW DHARMA. Once you've done this, you will receive a confirmation email - be sure to click the link you receive to activate your subscription!