Hello everyone and happy Sunday!
Dharma is happy to have Victoria back as a guest blogger with some words of wisdom on how to get greasy hair under control!
Victoria is a beginner writer from Brooklyn, New York who graduated from NYC University with a degree in Arts and Sciences.   She has many hobbies, with writing being her favourite.  She has written for her university and now writes blogs mainly about haircuts, hair care and different tips on hair styling for both ladies and men.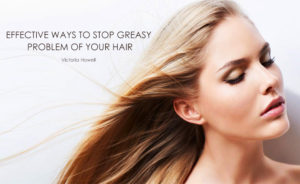 Tired of dealing with excessively oily hair? Learn proper ways to handle greasy locks and feel the desired relief!
Wash your hair sparingly
According to experts at Prestige Salon NYC, frequent washing of your hair can cause it to become greasy. It sounds crazy, but the more you wash, the dirtier your hair becomes. Frequent shampooing leads to losing precious oils leading your scalp to produce even more!
Replace hair products
Specific hair products such as creams, gels, serums, pastes, etc. have heavy texture and make your situation even worse. They make your hair become dirty much faster, and that's why you should avoid using them.
Use conditioner wisely
A conditioner is one of those hair products you should use very carefully. According to experts at Prestige Salon NYC, conditioner is an essential element of a proper hair maintenance, which should never be ignored. Just remember to apply conditioner to your ends instead of your roots, and this little trick will keep you safe from oiliness.
Get rid of nasty build-up
Build-up on your scalp can be a potential reason for excessive oiliness. In order to eliminate this problem, you should fight the reason first! We recommend using a clarifying shampoo at least once a week (or more often if needed) to solve this problem.
Purchase dry shampoo
Dry shampoo will become your best friend in this bloody battle with greasiness! This is a great way to make your hair clean without actually washing it. This miraculous product will help you to reduce your washing frequency and keep your hair clean at the same time.
More tips for your hair are here http://hairsalonprestige.com/