Hello everyone – hope you are having a fantastic weekend, wherever you are in the world.
Not that you've asked, but Dharma thought she would share some of her favorite skin care secrets with you…
Right out the gate, I'm going to be honest with you – most of these are not over the counter, easy to get things – but I'll admit to loving the thrill of the chase, so it actually makes me love them even more.
These are in no order of preference, almost all on the organic side and fairly reasonably priced…
In the eternal search for a decent natural deodorant, The Peaceful Warrior from Saje Natural Wellness comes out the winner.  It smells lovely, and it WORKS.  A 100 ml bottle lasts about 6 months and costs $13 Cdn.  As well as using it religiously, I give it as gifts and hope no one takes offense…  It comes in a few other scents, but this one is my favorite.
When it comes to foot cream, I'm a bit of an addict. I've tried hundreds of them, thousands even… and I have a few that come out on top.
Saje's barefoot beauty is one of them and it is fantastic – it leaves your feet tingly and cool for hours, which I love.  Coming it at $9, it's really quite the steal.
You can find Saje stores in most major retail outlets, almost every mall or shopping village has one, so this one is an easy chase.
Click here to check out more of their products.
Okay, talk about the thrill of the chase on this one!  Birchwood Botanicals is located in Bellingham, Washington and let's just say, I am not.
I discovered the wonderful Christie and her products at the Bellingham Farmer's Market, and have been a regular for many years.  She's at the market most Saturdays, and I've loved pretty much everything I've tried.  Plus I've gotten others helplessly addicted, which is kind of fun too.
Organically grown and hand harvested, her facial products are mostly rose based, and for those who know me, it's all about the rose.
The Cleopatra Oil Cleanser is a staple, a must have in my daily regime.  Would die without it.  The Rose Face Cream and the Rose Elixir are also must haves, and I've been known to buy (or have other people buy for me when they are there and I'm not) more than 6 at a time.
And another foot cream favorite  – The Avocado Foot Balm.  Love this so much.  It's another great one for leaving your feet tingly and moisturized.
One of the great things about Christie is that if you email her ahead of time, she'll have your order all ready to go for you – oh, and she ships as well, so if you are truly too far to make the trip, she'll pack it up and get it out to you.
Christie also does a great job merchandising her products, so they make lovely gifts… if you can bear to part with them…
To see all of Christie's products, click here!
Merica Natural Beauty Products
I stumbled upon this gem of a line only last year at the Penticton Farmers' Market in British Columbia.  Fell in love instantly.
Another one that's not exactly in my backyard, but the chase is totally worth it.  Plus she ships within Canada, so all is not lost if you can't get there. The scent of most of her products is rose geranium, so right, right, right up my alley.  And she (her name is Marion, and she's super great to deal with) makes pretty much anything I could ever want in that scent.  Face cream, body lotion, shampoo… you name it, she's got it – she markets it as her Merica Scent.  She also does things in lavender and unscented.
The Merica Moisturizing Cream was the first thing I ever tried, and I was sold instantly.  It is very rich and meant for dry skin, so if you aren't into heavy lotions, this one might not work for you – but that's okay, there's a lighter version called Merica Light, so it's all good.  For a quality skin care product, I find it really reasonable at $35 for a 120 ml jar.
The Shea Body Lotion is fantastic and comes in the rose geranium scent (Merica Scented), lavender and unscented.  I go through this stuff like crazy, as I have been known to coat myself head to toe.  A big bottle is $17.50.
And here was a surprise – I recently purchased Marion's Silky Liquid Shampoo and it is fan-freaking-tastic.  I can't say enough about how great it is, and I have been sampling natural shampoo for years.  There's always something I don't quite like, but not in this case.  It smells great and leaves my hair squeaky clean like a clarifying shampoo would, except without the harsh detergents.  At $12, it's a bit more than your drugstore brands, but entirely worth it.
Click here to see all the great things at Merica Natural Beauty Products.
So there you have it – and no, this is not a paid endorsement! These are completely genuine reviews and if there's ever any advice you take from Dharma, it's to take care of your skin!  It's with you til the end, and it's pretty much the first thing people see…
And don't you want people to wonder if you were born with it?
Dharma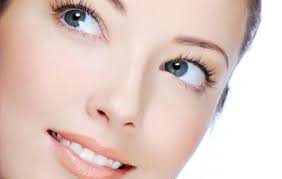 Got a question for Dharma? She's probably got an answer!
Go on, submit your question in the contact form on the toolbar. You know you want to! To submit anonymously, just make up a fake name and email – as long as the fields are populated, it works!
And be sure to follow Dharma everywhere! https://www.facebook.com/askdeardharma
Instagram too! https://www.instagram.com/dear_dharma/
And of course, Twitter… @deardharma