Dharma is happy to have Victoria back as a guest blogger with some words of wisdom, this time on sunglasses!  It's the perfect time of year to be donning your favorite shades, so any tips on how to buy the perfect pair are appreciated!
Victoria is a beginner writer from Brooklyn, New York who graduated from NYC University with a degree in Arts and Sciences.   She has many hobbies, with writing being her favourite.  She has written for her university and now writes blogs mainly about hair care for both ladies and men.

Sunglasses aren't as easy to choose as it seems. Learn how to pick a great eyewear and enjoy your purchase!
Determine the Initial Purpose
First of all, you should determine the initial purpose of your purchase when buying sunglasses. If you need custom glasses for driving, you should pay attention to the ability to cut glare. If you want to wear sunglasses to work, you should choose something classic and calm. You get the idea, right?
Check Protective Properties
Good sunglasses should be able to protect your delicate eyes from harmful radiation. You should always check labels and avoid eye wear whose protection level is lower than 99-100%. If sunglasses can't shield your eyes from UV rays, you risk suffering from serious illness in the future.
Purchase Cleaning Tools
If you want any sunglasses to serve you well and long, you should take care of them well – otherwise, they will lose their beauty quickly, and you'll be disappointed. We recommend purchasing special cleaning tools such as a microfiber cloth and a cleaning agent. They will help to clean your custom glasses without damaging them.
Ignore Common Misconceptions
You should know about the common misconceptions if you want to make a good choice. Firstly, black sunglasses don't protect your eyes from UV rays better. Secondly, cheap sunglasses can shield your eyes from the radiation as well as a super expensive eye wear.
Choose the Best Material
It's essential to pay attention to the material when choosing sunglasses. You should avoid heavy materials because they are difficult and uncomfortable to wear. We also recommend going for a flexible and scratch-resistant material for making your eye wear last longer.
Find more tips here http://lableu.com/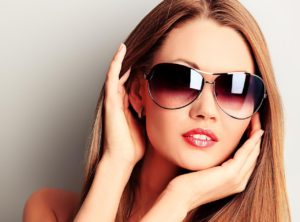 Got a question for Dharma? She's probably got an answer!
Go on, submit your question in the contact form on the toolbar. You know you want to! To submit anonymously, just make up a fake name and email – as long as the fields are populated, it works!
And be sure to follow Dharma everywhere! https://www.facebook.com/askdeardharma
Instagram too! https://www.instagram.com/dear_dharma/
And of course, Twitter… @deardharma