Dear Dharma,
I work in office administration for a prominent downtown company.  Recently, to pick up morale, our supervisor has implemented "casual Friday's".
I understand his motive, but I can't help but feel that he should have implemented more regulations to casual Fridays considering the type of work we do.  My colleagues are coming to work half naked!
Since when did casual Fridays include tank tops and flip flops? I'm no prude, but sometimes their clothes barely cover their bodies.
Should I just let this go or step up and say something?
I've Seen Things…
Dear Seen Things,
It's weird, right?  That casual Friday somehow gets misunderstood as "Hanging out at the Beach" Friday…
Yes, I think for you to step up and say something would be a good thing.  I would even take it a step further by offering to write up some guidelines for your boss to distribute to the staff.
Not only are you stepping up and showing initiative, but you are coming in with a solution, which ultimately makes your bosses life that much easier.  Bosses like that.
Finding a template for dress code guidelines will be easy – here's a quick starting point.  See what I did there?  I made your life easier.  And how much more do you love me?
Exactly.  🙂
Dharma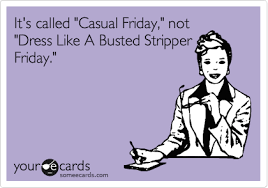 Got a question for Dharma? She's probably got an answer!
Go on, submit your question in the contact form on the toolbar. You know you want to! To submit anonymously, just make up a fake name and email – as long as the fields are populated, it works!
And be sure to follow Dharma everywhere! https://www.facebook.com/askdeardharma
Instagram too! https://www.instagram.com/dear_dharma/
And of course, Twitter… @deardharma