Hello and happy Sunday!
And speaking of Sunday, what a great day for brunch!  Can't decide where, though?  Well of course Dharma has some advice for you on this topic !
Located in the East End of Vancouver, The Red Wagon has been made famous by their great food, generous portions, and of course, Diners, Drive-Ins and Dives.
Dharma definitely has a few favorites on the menu – the chilaquiles are at the top of list, especially when you add the pulled pork.  If you're feeling super hungry and looking for a way to get over whatever it is you did last night, the Supertrucker hits all the right spots.  And if pancakes are your thing, well, the Pulled Pork Pancakes are a sure winner.
You'll need to get there early on a weekend, as you can almost always guarantee a line-up – but trust Dharma – it's worth it!
Here's a hidden little gem.  Located in a bit of an industrial area of North Vancouver, you might not even know it was there.  But now you do, so be sure to check it out!  And no, by far and large it's not just sandwiches!
On the website, the menu looks a bit limited, but they always have fantastic specials, and if you get there early enough, you get tiny little muffins with your breakfast.  For free!
It's a cozy atmosphere with French style décor and music, and the service is always pleasant.  Put it on your list of places to go for sure!
What a lovely surprise this place was, and holy Hannah, incredibly popular!
Located on Commercial Drive (and they have another location in Gastown), this is one you don't want to miss.  The Chilaquiles are amazing, as are the Huevos con Chorizo.  And if it's your thing, they have a great drink menu – nice way to start the day!
Have tried a couple of times to get in for dinner, but the line-up has been daunting… but Dharma won't give up.  Just have to try, try again!
Another place you need to get there early for, as they are guaranteed to be busy. With two locations, though(Dunbar and a newer one on Fraser), it makes it a little easier to get in…
A really great menu that includes Nutella French Toast (whaaaat?), Huevos Rancheros and a fantastic Breakfast Burrito… if you're hungry, this place will take care of that in a hurry!
Are you drooling all over your phone now?  Well get out there, go! And have a great day while you're at it…
Oh! Feel free to add any of your favorites in the comments section below!  Dharma is always game to try something new…
Dharma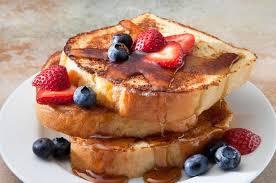 Got a question for Dharma? She's probably got an answer!
Go on, submit your question in the contact form on the toolbar. You know you want to! To submit anonymously, just make up a fake name and email – as long as the fields are populated, it works!
And be sure to follow Dharma everywhere! https://www.facebook.com/askdeardharma
Instagram too! https://www.instagram.com/dear_dharma/
And of course, Twitter… @deardharma