Dear Dharma,
Help! My friend has been brainwashed by her five-year-old! I wish this was a joke, but it's not.
You see, my friend is the blessed mother of a little girl whom I adore. Let's call her Natalie for the purposes of this letter. We spend a lot of time together, and they often visit me for a weekend here and there throughout the year, which has always been fun.
Lately though, I can't help but notice the Natalie is spoiled rotten as my friend dotes on her every want and need. As a result, this sweet little girl is slowly becoming her mother's drill sergeant – and mine, when they're over at my place. Everything we do is Natalie's decision – right down to where we go for dinner!
When she throws a fit or gives me the 'tude, I try to lightly let her know this behaviour is not acceptable, but my friend gets SO angry with me – "I'm not a mother so I wouldn't understand." How do I make her see that she's going to have a little tyrant on her hands if she doesn't get her little one under control?
No Chuck-E-Cheese for Me Please
Dear Chuck-E,
Sigh.  It's the way of the world these days, isn't it.  People trying so hard to be friends instead of parents.
Wiki says that parenting is "the process of promoting and supporting the physical, emotional, social, financial, and intellectual development of a child from infancy to adulthood."
Dharma says how on earth does letting the five year old be in charge (when they don't even have the proper skills to make grown up decisions!) come even close to fulfilling that criteria?
And I'm sorry, but I don't need to be a mother to recognize that.  Maybe you have to be a mother in this era not to.  It's a knee jerk retort born of defensiveness, not logic, and it bugs me.
(As a side note, I started to suspect I had gone down this path before – and yes, yes I have… Teach Your Children Well carries a very similar theme and I'm equally as miffed now as I was then.)
Anyway, before the rant becomes a rave, let's look at your question…  How do you make your friend see that she's going to have a little tyrant on her hands?
Well, you don't.  And why is that? Because she won't hear you.  She doesn't want to hear you.
If you've read Dharma more than twice, you know what she's going to say next, right?  You can't – come on, say it with me! – you can't change the behaviour of others, only your own.  Nicely done.
Because there is little you can do to change how your friend handles her daughter, all you can do is continue to draw boundaries where you can and not feel bullied into backing down.  "I'm sorry, Natalie, but when you're at Aunty Chuck's place, you need to say please and thank you."  "Actually, friend, I don't think I feel like a Happy Meal tonight.  Would it be alright if we chose something we are all happy with?"
Teaching a child how to make decisions is a great thing and should be encouraged – red socks today or blue?  This book or that one?  Apple sauce or pudding?  (Pick the pudding, Natalie! Always the pudding!)
However, when a child is given the power to decide how the grown-ups spend their time and money – especially when the child's decision making skills are still in the developmental stage – you're not teaching them much more than how to get their own way.
So don't feel bad for not playing a role in that.  Deliver these messages in a calm and unapologetic manner, and hope that your friend will follow the example you are trying to set.
Dharma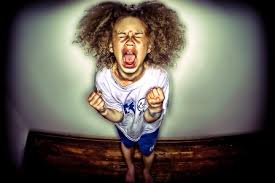 Got a question for Dharma? She's probably got an answer!
Go on, submit your question in the contact form on the toolbar. You know you want to! To submit anonymously, just make up a fake name and email – as long as the fields are populated, it works!
And be sure to follow Dharma everywhere! https://www.facebook.com/askdeardharma
Instagram too! https://www.instagram.com/dear_dharma/
And of course, Twitter… @deardharma