Dear Dharma,
I just wanted to start off by saying I love your column, you have such great advice! I'm hoping you're able to give me some!
I've been in a few relationships now and I'm noticing that I seem to have a particular pattern.  Year one and two, life is good and the relationship is thriving. Year three, things start to slow down. Year four, the relationship is floundering and I'm feeling like it's time to move on.
No matter what I try, each relationship seems to follow this path (maybe not always right in line, but you get the idea).  What am I doing wrong? This can't be normal! How am I supposed to settle down and spend my life with Mr. Right if I can't even make it 4 years with the same person?
Help!
Sleepless in Vancouver
Dear Sleepless, 
Thank you for the kind words, Sleepless!  Fingers crossed you still feel the same by the end of this posting! 🙂
Although it may seem unrelated, here's the first thing that came to mind when reading over your dilemma.  Dharma's "career path".
Sad as it is, Dharma does have a day job… and it's been the same job, different places, for a long while now.  And it's the same thing every time – I start a new job, the first year is fresh and challenging, the second year, I've got control, the third year my interest is slipping and every day from thereon in, it's an emotional struggle.
You know why?
Because I'm not on the right career path, probably never was… It wasn't any more "right" in year one and two when it felt fresh and enjoyable, it just wasn't as noticeable.
You see where I'm going with that analogy?
Come on.  Tell me honestly.  Looking back at the first year in any one of your relationships, can you tell me – honestly! – that there wasn't a sign, a twitch, the tremble of a thought that maybe this guy wasn't the right one for you?  That not one single dynamic between the two of you that occurred in year one and two didn't somehow play out towards the dissolve of your relationship?
I did the same test on myself, I had lots of material to work with, and it was laughable. Every previous relationship showed it's signs in the early months (sometimes weeks!) and those signs were flat out ignored, glossed over with the newness of the relationship and the desire to be well on my way towards happily ever after (goddamn Disney).
The reason these relationships haven't worked out for you, Miss Sleepless in Vancouver, is because they haven't been the right relationships.  That's it!  That's all!
Simply put, not everyone is suited for everyone.  There's nothing inherently flawed in you, you don't have a ticking time bomb set at 1460 days in place of a heart, and the sooner you own that statement, the better.
If you start going into every relationship thinking, "Well, here we go, year 1 of 4!", the more you will be correct.  You understand brain programming and self-fulfilling prophecy enough to see the logic here, non?
So!  I'd like to see you do a couple of things.
One – determine what it is you are really looking for, really wanting in a relationship. For the long haul, not just for what you can enjoy with them now.  Isn't there a saying about choosing someone for their conversational skills as much as anything else, cuz when you're 80 that's all that's left?  That and jello…
But you see where I'm going with that, right?  Know the things that are always going to be important to you and make sure you can see proof of that now.  Watch the best Wedding Singer clip ever – "I Wanna Grow Old With  You" – if you need inspiration.
Two – I'd like you to work on your "red flag" identifiers and start listening to your gut a bit better.  Start trusting yourself so that we can start slimming this down.  Your next relationship might not yet be the right one either, but taking 4 years to determine that will start to become less and less desirable.  I'm not saying you need to speed date or anything, I'm just saying…
You've got the control to design your own pattern, missy, so change the mindset, determine what you want and don't settle.  Just don't settle for anything less.
Dharma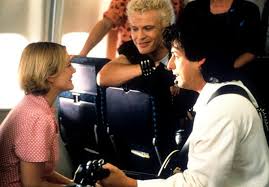 Got a question for Dharma? She's probably got an answer!
Go on, submit your question in the contact form on the toolbar. You know you want to! To submit anonymously, just make up a fake name and email – as long as the fields are populated, it works!
And be sure to follow Dharma everywhere! https://www.facebook.com/askdeardharma
Instagram too! https://www.instagram.com/dear_dharma/
And of course, Twitter… @deardharma