Hello and happy Sunday!
Although the United States are currently going through some… interesting times, one place that has to be on your bucket list is New Orleans, no matter what.
To say their culture is vibrant is understated.  From the wrought iron architecture to the bubbles randomly floating down the street, from the clip clop of horse drawn carriages to the sound of trumpets in unlikely corners, New Orleans fills your senses in only a way that New Orleans can.
And the food!  Mon Dieu, the food.  Dharma could recommend a hundred places, but thought you might lose interest before you got through it all.  So we've limited it to just 5, and apologize in advance for making you hungry
The Ruby Slipper
With a light touch of the Wizard of Oz in their marketing, The Ruby Slipper was a true breakfast delight.  The Eggs Cochon was a personal favorite – a crunchy, yet light homemade biscuit, topped with pulled pork, poached eggs and hollandaise… oh my!
They have several locations in the NOLA area, and putting The Ruby Slipper at the top of your list is the best piece of advice Dharma can offer you today.
Johnny's Po-boy's
There are a million places that serve po-boys in New Orleans, with one of the most popular being Johnny's.  If you can get in without a line-up, consider it a good day.
The selection is simple yet vast.  Start reading the menu board the second you step through the doors so you can take in all the choices…  We went meatball, which was marvelous, but would be down for trying pretty much everything.
The Old Coffeepot Restaurant
This gem has been featured on many a food show, and for good reason.  The Old Coffeepot Restaurant boasts the best breakfast in the French Quarter, but honestly?  The best red beans and rice ever.  I'm always tempted to try something different, and then I panic at that last minute for fear that whatever else I choose wouldn't be as good.
Port of Call
Hamburgers.  That's what they do.  And people line up all night long for the Port of Call's hamburgers – once you've had one, you'll understand why.
Be sure to be hungry, that's all I can say.  The side of a double loaded baked potato is that close to too much, but so delicious.  As is their Goombay Punch.  Which you can take with you in your To Go cup… and you should.
Cake Café and Bakery
A quintessential New Orleans corner café and bakery, Cake does a great breakfast.  And they serve cupcakes as well, so really, what could go wrong.
While grits are not as popular in Canada as they are in the States, they are everywhere in this city.  Some are not bad, and some are downright to die for.  That's Cake's grits (ha, is that a real sentence?).  No matter what you order, pair it with a side of cheesy grits and you'll be writing in to offer me your first born.
So there y'all have it.  Just 5 of the many, many amazing places in an equally amazing city.  If you've tried any of these and want to let me know what you thought, drop me a line in the comments below.  And feel free to add to the list as well…
Dharma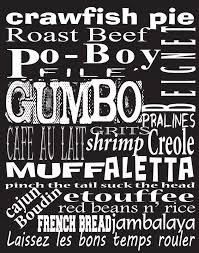 Got a question for Dharma? She's probably got an answer!
Go on, submit your question in the contact form on the toolbar. You know you want to! To submit anonymously, just make up a fake name and email – as long as the fields are populated, it works!
And be sure to follow Dharma everywhere! https://www.facebook.com/askdeardharma
Instagram too! https://www.instagram.com/dear_dharma/
And of course, Twitter… https://twitter.com/DearDharma