Hello and happy Sunday!
We all know Christmas is coming up faster than a herd of reindeer jacked up on caffeine, and if you're like Dharma, you've already started planning your Festivus Feast…
A big turkey dinner is likely your go-to, and there's nothing wrong with that!  Turkey, mashed potatoes, those whipped yams with marshmallows and pecans on top… Cranberry, stuffing, gravy – it's all sure to be a hit.
Yet if you're thinking you might want to do something a bit different this year, Dharma's got some suggestions for you.
Down South
A couple of years back we put on a Southern Christmas dinner that was nothing short of fabulous.  Pulled pork, baked beans, blackened snapper, corn bread shaped like Christmas trees, a red and green salad (ha, mainly lots of tomatoes and lettuce, but we were going for the colour effect)… We finished everything off with a decadent pecan pie and some fresh lemon tarts.  A success indeed, y'all!
Hola Amigos!
How about something with a Mexican flair – and I'm not talking nachos and a burrito from 7-Eleven… A lovely tortilla soup, followed by chicken or beef enchiladas topped with a rich mole sauce to rival the best… or how about homemade tamales?  And for dessert?  A Mexican flan – no question.  A bit time intensive, but not all that difficult… And so delicious you won't even believe it came out of your own kitchen…
Delizioso
And oh mia bella – how about Italian?  You can never go wrong with this… Start off with an antipasto platter complete with cured meats, olives, roasted peppers and a fresh loaf of focaccia… Mmmm… A homemade cannelloni stuffed with ricotta and spinach, topped with creamy tomato… or maybe a linguini with clam sauce – or why not both!  A fresh Caesar salad on the side and you've got a gourmet feast going on… A traditional tiramisu for dessert served alongside a rich espresso – delizioso!
All of these options can offer a rich contrast to the time-honoured turkey dinner, and depending on who your audience is, they may just welcome the different taste sensations.
Whatever you decide on, Dharma is sure it will be fabulous!
Dharma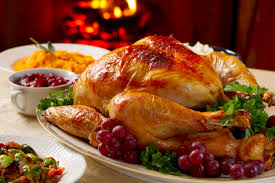 Got a question for Dharma? She's probably got an answer!
Go on, submit your question in the contact form on the toolbar. You know you want to! To submit anonymously, just make up a fake name and email – as long as the fields are populated, it works!
And be sure to follow Dharma everywhere! https://www.facebook.com/askdeardharma
Instagram too! https://www.instagram.com/dear_dharma/
And of course, Twitter… https://twitter.com/DearDharma