Hello and another happy Sunday to you!
Time just seems to be on fast forward these days, doesn't it… I mean, we still have a piece of Christmas cake floating around the pantry and yet February is just 3 sleeps away.
This is the time of year when resolutions we made a mere month ago have already dropped to the floor like Beyonce's microphone – unless, of course, you are amongst the spectacular few still sticking with it.
Dharma's talked about resolutions before but thought it might be fun to talk about them again.  Or rather, not talk about them again.
Because, in Dharma's opinion, New Year's Resolutions are a bummer.  They feel like a chore, they feel like deprivation and mostly aren't sustainable.
That's where bucket lists come in!  They are achievable, they are manageable and most, oh so most importantly, they can be a heck of a good time.
In Groundhog Day Again, Dharma talked about seasonal bucket lists, which is still a fantastic idea. This year, however, Dharma went about it a tad differently and created a bucket list by category.
Of course, like in Jeopardy, the categories aren't static, they can change any old time me or Alec want them to, but for this year we have Movies I Need to Watch, Things I Want to Make, Nom Nom Nom, Inside/Outside and Things That Scare Me.
So you say I'll take Nom Nom Nom for $200 Dharma!
Okay, fair enough!  You want to know what kind of things would fall into this category…  Well, this is one's easy.  It's just 5 or 6 restaurants I keep hearing about and really want to try out. Achievable, fun, right?
Inside/Outside are random things I want to do, either inside… or outside!  Go to a specific theater, check out a certain museum, take a hike somewhere I haven't been before.  Movies I Need to Watch is obvious and mostly dictated by this conversation.  Things I Want to Make – like beef jerky! Strawberry jam!  Can you believe I've never made strawberry jam?
Anyway, give it a try and put together your own bucket list… and feel free to share your ideas in the comment section below!
Dharma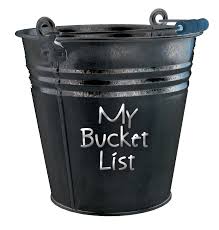 Got a question for Dharma? She's probably got an answer!
Go on, submit your question in the contact form on the toolbar. You know you want to! To submit anonymously, just make up a fake name and email – as long as the fields are populated, it works!
And be sure to follow Dharma everywhere! https://www.facebook.com/askdeardharma
Instagram too! https://www.instagram.com/dear_dharma/
And of course, Twitter… https://twitter.com/DearDharma