Hello and happy Sunday y'all!
More and more these days, people find themselves less and less connected. Less connected to our friends, our family and for sure to our community. We've got more technology available to us than at any other point in history, yet less free time than ever before.
So, if Dharma can offer you anything resembling great advice, how about doing something that starts moving us in a different, more connected, direction?  How about getting more involved in your neighbourhood!  You know, that place you live day in and day out, that place you call home?
There are lots of ways to do this – and some of them might feel daunting at first – but once the groundwork is set, it becomes a pretty natural way of life.
In Dharma's world, we have a thing called Block Watch – I don't know if this is just a British Columbia thing or what other programs exist out there, but a few years back Dharma signed up to be the Block Watch Captain in her immediate area (of course she did).
Now we not only know a lot of our neighbours, and become friends, but did you know that being part of a Block Watch neighbourhood can be an effective tool in reducing crime rates? Statistics show that when a neighbourhood 'connects' it becomes a safer environment for everyone.
And there's nothing wrong with that, right?
Once this little Block Watch community was set up, slowly but surely, connections started to happen, and the next thing you know – you've got a Block Party!  Definitely requires some organization at the onset, but once you've got it going, it just goes.
To be clear, it's not that you need to start a Block Watch community in order to have a Block Party – that's just how it happened in Dharma's case.  If you want to have a party, have a party! It's such a great way to get to know people in a fun and friendly environment.
If all this seems a bit much, no worries, you don't have to do any of that. But how about this – how about just taking a walk around your neighbourhood?  Be pleasant, say hello where it doesn't seem creepy, make some eye contact.
Once you've done that enough times, you might even find yourself in conversation with someone that you've seen and acknowledged a few times. And from there, you just don't know… Maybe somewhere down the line you'll find yourself donning the Block Captain Hat and doing the YMCA on your front lawn.
Bottom line is that connecting with people is never a bad thing.  We may be out of practice these days, but that's okay, right?  It's never too late to make some changes and start being the kind of neighbour you'd want to have…
Nice words to live by, right?
Dharma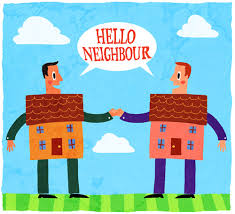 Got a question for Dharma? She's probably got an answer!
Go on, submit your question in the contact form on the toolbar. You know you want to! To submit anonymously, just make up a fake name and email – as long as the fields are populated, it works!
And be sure to follow Dharma everywhere! https://www.facebook.com/askdeardharma
Instagram too! https://www.instagram.com/dear_dharma/
And of course, Twitter… https://twitter.com/DearDharma