Oh, well hello there and Happy Sunday!
Today's a day for celebration in the land of Dharma, and let me tell you why! If you can believe it, Dharma just turned two years old, just yesterday in fact.  Two years old!!  My, my how time flies…
So, you say, what all has Dhar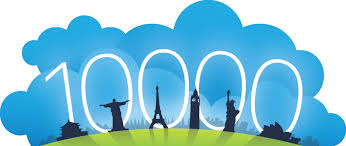 ma accomplished in that time?  And Dharma says oh yeah?!  Check THIS out…!
With over 300 questions asked and answered, we've covered a lot of ground. Sex, neighbours, jobs, sex, friends, kids, sex.  We've covered tips for interviews, tips for baby showers and tips for finding the best wine in the world.  We've had some great guest bloggers and shared some fun stories… damn, that Keg card incident still burns me…!
Almost 10,000 people have joined our krewe since we started out, and we're getting bigger and better every day.  All thanks to you.
If you haven't done so yet, be sure to check Dharma out on Facebook, Twitter and Instagram – you don't want to miss out, right?
Otherwise, keep sending your questions and keep tuning in to see the latest and greatest with Dharma.  And remember, Sharing and Liking keeps Dharma biking (you know, like going forward! Moving ahead!)…
Wow.  Terrible, just terrible…
🙂
Dharma
Got a question for Dharma? She's probably got an answer!
Go on, submit your question in the contact form on the toolbar. You know you want to! To submit anonymously, just make up a fake name and email – as long as the fields are populated, it works!
And be sure to follow Dharma everywhere! https://www.facebook.com/askdeardharma
Instagram too! https://www.instagram.com/dear_dharma/
And of course, Twitter… https://twitter.com/DearDharma