Dear Dharma,
My guy and I have been dating for a few weeks now and have recently decided to move forward with the relationship and enter the "Couple" status. I was super excited and everything was going great and thennnn…..we had sex for the first time. AND IT WAS AWFUL!
Honestly, it was like he was just jiggling about with no specific rhyme or rhythm. No skill what-so-ever! I couldn't wait for him to get off of me. I'm not saying I'm God's gift to men, but I like to think I have some man pleasing skills and can gauge whether or not the other person is enjoying what I'm doing.
I'm so confused about what to do! Sex is a huge part of a relationship for me. But I don't want to hurt his feelings and dump him because of crappy sex! What guys likes to hear "Hey, you're terrible in bed; I think we should see other people."
What's a girl to do?
Sexy-time Sadness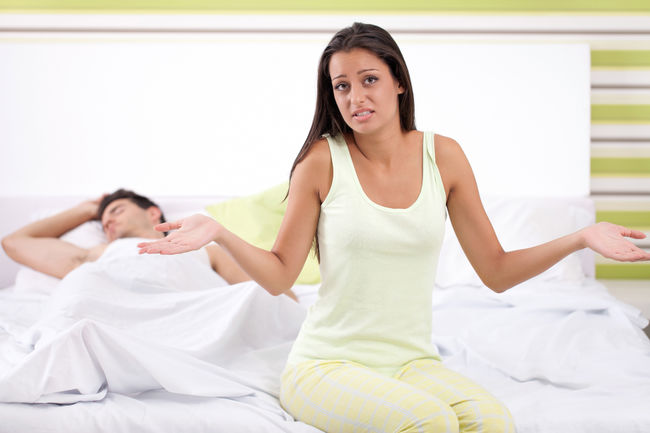 Dear Sexy-time,
I enjoy that I got to address someone as Sexy-time.  It's not something you get the opportunity to do all that often, so thank you for that.  I liked it so much that I named the whole post after it.  🙂
So that would have been a major disappoint for sure, but I don't know if it has to spell the end of your relationship quite yet.
Keep in mind you haven't known each other all that long.  More often than not, the first time isn't always the greatest, no matter what they tell us in the movies.
If you're willing to put a little time and effort into this, you may be able to turn things around.
From my extensive polling on this topic (okay, none, actually), it seems to me that men are more open to "guidance" in this arena than you would think.  They aren't usually offended if you set the pace, or move this hand here and that one there.  Tread lightly, don't sound intimidating or irritated (yeah, that would kind of ruin the mood, right?) and really encourage anything he does that you like.
As in, use your words.  Communication is the most important part of a relationship, both in and out of the bedroom.  It might seem awkward at first, but it's a skill that should be developed, no matter what the topic.
If everything else in the relationship is going in a direction you are happy with, being patient and helping him learn what you like could be well worth it, right?
However, at the end of the day if it's still not working, don't convince yourself to stay in a relationship where you find yourself cringing every time it's Sexy-time.
Dharma
Got a question for Dharma? She's probably got an answer!
Go on, submit your question in the contact form on the toolbar. You know you want to! To submit anonymously, just make up a fake name and email – as long as the fields are populated, it works!
And be sure to follow Dharma everywhere! https://www.facebook.com/askdeardharma
Instagram too! https://www.instagram.com/dear_dharma/
And of course, Twitter… https://twitter.com/DearDharma