Dear Dharma,
So I've branched out and tried this new "Tinder" thing.  Haven't been dating much since my divorce 3 years ago, just looking for new friends to hang out with so thought I'd give it a go.
I went on a date with this guy a few days ago – really nice, engaging conversation, he paid, opened doors etc… BUT he kept checking his phone every few minutes!!
I know a lot has changed since I used to date, but is this normal?  Cuz I found it kind of rude.
What do you think?
Annoyed in Seattle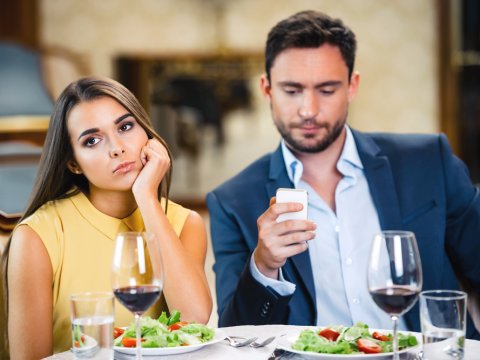 Dear Seattle,
One day I should do the math on how many questions come through to Dharma regarding people being distracted by their phones.  I think the numbers would show, sadly, that yes, this is in fact normal… but that doesn't make it any less rude.  Dharma is squarely on your side.
A situation like this is an awesome place to practice setting boundaries and being politely assertive.
After a couple of times of him checking his phone, I would smile sweetly and ask if he's in the middle of a big business deal.  Chances are he isn't, cuz really… he isn't, so that would allow you to follow up with something like, "It's just that you seem very distracted by whatever's going on over there.  I've been enjoying our conversation, but it's hard to keep the focus when something keeps pulling you away."  Smile, smile, smile…
Hopefully he takes the cue and puts his phone away.  If so, immediately let it go, and carry on with whatever you were talking about.
If not, well… If a guy can't give you his 100% attention for the duration of one tiny date – and your first date to boot! – then he's already showing his true colours, and that may be all you need to know in regards to the possibility of a second date.
As a side note, this new "Tinder" thing… it's not designed so much for finding new friends to hang out with – it's more for hook ups… so maybe take a bit of time to research some additional dating sites and see if that goes any better for you!
Dharma
Got a question for Dharma? She's probably got an answer!
Go on, submit your question in the contact form on the toolbar. You know you want to! To submit anonymously, just make up a fake name and email – as long as the fields are populated, it works!
And be sure to follow Dharma everywhere! https://www.facebook.com/askdeardharma
Instagram too! https://www.instagram.com/dear_dharma/
And of course, Twitter… https://twitter.com/DearDharma