Good morning and happy Sunday to one and all!
Everybody needs a good friend, right?  Dharma's dog Bob has a friend, his name is Target.  This picture completely captures their relationship… Bob, all demure and posing pretty for the camera, while Target, crazy and wild eyed, unwittingly steals the show.  Bob's little side eye says it all… yup, everyone has one of those friends… sigh…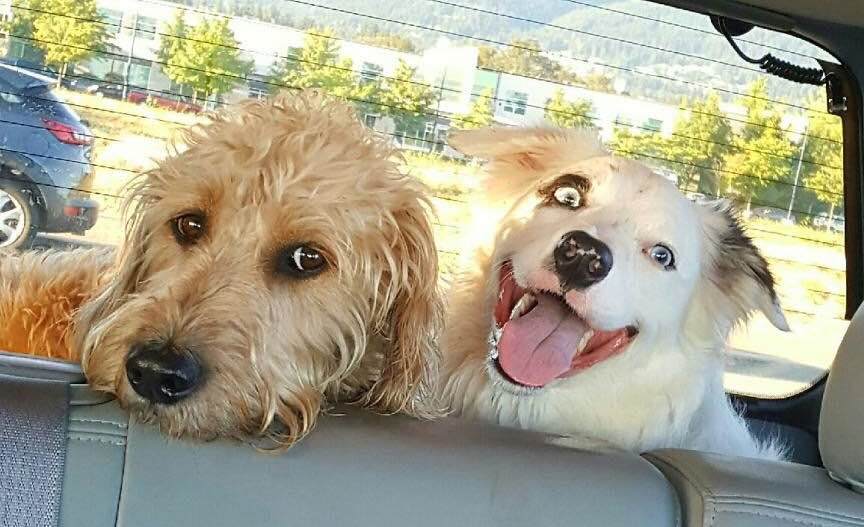 The thing is, Dharma needs friends too!  Will you be my friend?  On Facebook,  I mean!  Well, and in real life too!  🙂  Can never have too many friends, right?
If you haven't already done so, we would love if you could click on this link and Like Dharma's Facebook page… we are trying to hit 3000 followers by the end of the year, which is completely doable if we all play the game!
And if there's a page you would like Dharma to follow, no problemo – just throw it down in the comment section for all to see!  Maybe Dharma's readers will Like your page too!
Hope you are enjoying your weekend, and we'll see you in the morning!
Dharma
Got a question for Dharma? She's probably got an answer!
Go on, submit your question in the contact form on the toolbar. You know you want to! To submit anonymously, just make up a fake name and email – as long as the fields are populated, it works!
And be sure to follow Dharma everywhere! https://www.facebook.com/askdeardharma
Instagram too! https://www.instagram.com/dear_dharma/
And of course, Twitter… https://twitter.com/DearDharma