Dear Dharma,
I really love my boyfriend but lately I've felt kind of taken for granted. We've been together for just over two years and when we started dating, we went out a lot. Nothing overly fancy, but nice places for dinner, lots of movies, some music concerts and the like.
I understand that as time goes on the "wooing" drops off a bit, but lately if I want to go anywhere with him, I have to suggest it AND pay for it! I'm a receptionist at a law firm; he was working as a civil engineer. He got laid off three months ago.
As an engineer he makes more than me and never had a problem paying for most of our dates. I was hoping by now that he'd ask me to move into his condo (I live with my parents) and we could start building a life together. We are in our late 20s, so isn't it about time?
With him not taking me out lately and acting kind of distant, I have to wonder if this is the man for me. He seems responsible – is it too much to think that he has some savings or something to live on while he's between jobs? How do I get his attention and time back without sounding needy?
Sincerely,
Frustrated with Deadbeat Boyfriend
Dear FDB,
There's actually quite a bit going on here.  Let's see if I can organize it all in any useful way for you…
Yes, in time, "wooing" does drop off a bit, but as soon as any one side of a partnership stops thinking time and effort are required to keep the love alive, that could be considered the sign of a problem… but not an uncommon one, and not an insurmountable one, but an issue nonetheless.
Secondly, you see it as a problem that he's no longer suggesting you guys go wining and dining, but… isn't that more symbolic of him not having a job right now?  You say he's responsible, and this current behavior backs that theory, but on this side of the coin, you don't like it.  You're on both sides of the fence here…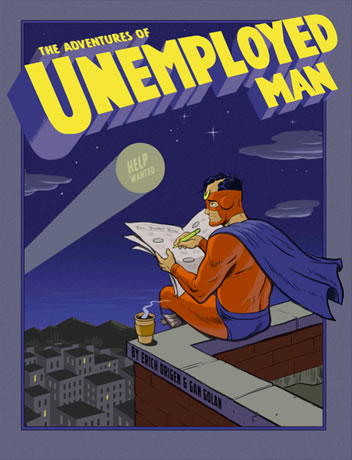 Also, you think now is the time for him to ask you to move in and start building a life together, but… I'll reiterate that he is currently unemployed…
For men (generally speaking, of course) employment is a major part of their identity.  Major.  When they are unemployed for whatever reason, especially when it wasn't their call, they kind of… lose themselves.  They don't feel productive, they don't feel useful and they don't feel all that great about themselves.
Is that the springboard you want to move to the next phase of your relationship from?
The way to not sound needy is to stop being needy.  Pressuring him right now and making it all about you and your timetable is guaranteed to push him further away.  He'll buckle, I promise you that, and the results won't be good.
I can't tell from your letter how the relationship was prior to him losing his job, but you do say that it's just been lately that you feel taken for granted – which I'm guessing corresponds to his lay off 3 months ago?
Look, life happens.  This is who your guy is when things are down.  The great thing about this situation is now you have a more rounded picture of who he is, for better and for worse… you know, since you're wanting to get married and all…
Only you can decide if you what's on the other side of this situation is worth waiting for… but the fact that you were thinking of bailing when things got a bit rough may be an indication of where your heart is at.
Dharma
Got a question for Dharma? She's probably got an answer!
To submit a question anonymously, just make up a name and email – it doesn't have to be real, as long as the fields are populated.
And be sure to follow Dharma everywhere!